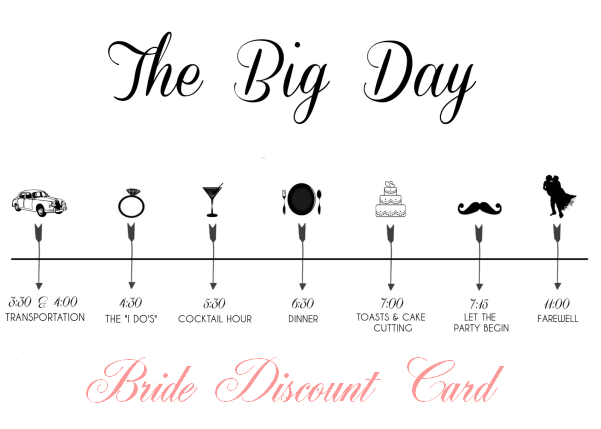 Wedding Planning Timeline
9-12 MONTHS BEFORE YOUR WEDDING DAY:
Be organized! Get yourself a planner to keep track of all your wedding details.

Decide on style of your wedding, i.e. formal, informal, approximate amount of guests.

Decide on approximate budget and who pays for what. Traditionally, wedding expenses are taken care of by the bride's family while the groom's takes care of the rings, the rehearsal dinner and the honeymoon. But remember, this is the 2000's, so anything goes. Be clear as to who's willing to pay for what and how much.

Decide on what religion (if any) pertains to your wedding ceremony.

Make an appointment with the Officiate. Reserve ceremony site. Find out requirements . Make future appointments to plan music and discuss ceremony.

Choose reception site

Select a wedding date. Try to do this in conjunction with your ceremony and reception site selections.

Select wedding attendants, best man, maid of honor etc.

Secure a Caterer for your reception if your site does not come with one.

Think about color schemes for florists church, reception and attire.

Select Photographer

Select Videographer

Select Florist

Select Musicians

Discuss Honeymoon locations. Visit your travel agent. Get brochures.

Start shopping for wedding dress and bridesmaid's dresses.
6-9 MONTHS BEFORE YOUR WEDDING DAY

Select wedding dress. Set dates for fittings.

Select Bridesmaids' dresses.

Start working on guest lists: Bride's family, Groom's family, the Bride & Groom's list.
4-6 MONTHS BEFORE YOUR WEDDING DAY
Book your Honeymoon.
Order your invitations, thank you cards, napkins and guest book.
Order gifts & favors.
Choose your music selections for your ceremony.
Order wedding rings.
Register with Bridal Gift Registry at your favorite stores.
Plan your new home. Where are you going to live. Shop for furnishings.
Select and reserve your Limousine service.
Shop for Men's attire.
Confirm dates and arrangements:
Select bakery and order wedding cake (if not offered in reception package)
Reception site
Caterers (off site)
Florists
Honeymoon
Transportation arrangements
Musicians for ceremony & reception
Delivery date of wedding dress
Check in with your Photographer
Check in with your Videographer
Ceremony site arrangements
2 MONTHS BEFORE YOUR WEDDING DAY
Mail invitations. Include wedding vendors you have hired.
Arrange for blood test if required in your state.
Marriage License
Plan date for rehearsal dinner. Select restaurant.
Confirm date for wedding cake (if applicable)
If possible make an appointment with a beauty professional for you and your bridesmaids on your wedding day.
ONE MONTH BEFORE YOUR WEDDING DAY
Pick up wedding rings.
Final fittings for men's attire. Confirm date pick-up time.
Plan Bachelor and Bachelorette party. *Caution: Avoid picking the night before your wedding. It'll get you in trouble every time.
Make Hotel reservations for out-of-town guests.
Select wedding day accessories, (pillow, rings, garter)
Plan on getting documents i.e, legal, religious, medical in order.
Make appointment for ceremony rehearsal.
Assign attendant responsibilities i.e, tips and balance payments on day of wedding for musicians, limousines, photographer/videographer, DJ, musicians, Maitre D, bridal attendant, caterers etc.
TWO WEEKS BEFORE YOUR WEDDING DAY
Finalize arrangements with EVERYONE. Review details of your contracts.
Finalize and review music selections for ceremony and reception.
Start planning what to wear on your honeymoon. Review with travel agents all necessary documents.
Get marriage license.
ONE WEEK BEFORE YOUR WEDDING DAY
Wedding ceremony rehearsal
Make sure you remember a table at your reception for you photographer, videographer, and your dj to sit at during dinner. It is proper etiquette to invite them to eat at the reception.
Rehearsal dinner
Pack your bags. Don't wait until the last minute.
Go to a spa and pamper yourself and your bridesmaids.
Guys, chill with your homeboys. It won't last much longer.
Present gifts to bridesmaids and ushers at the bachelor and bachelorette parties.
Remind attendants about ceremony rehearsal day and time.
Party!
WEDDING DAY
Breathe
Give yourself plenty of time to get ready, at least 3 hours ahead of time.
Breathe
Don't forget the rings and marriage license.
Breathe
Best man should have payment for officiate.
Allow time for photos (if you've arranged this with your photographer & videographer)
Breathe
Most of all, have fun!